Product Registration Number:
MAPP 15586

Active Ingredient:
500 g/litre propyzamide

Pack Size:
10.0 Litres

Formulation:
Suspension concentrate

Maximum Individual Dose:
1.7 L/ha

Maximum Total Dose:
One per crop

Latest Timing:
Before 1st Feb in the year of harvest

Water Volumes:
200 – 1000 L/ha

Spray Quality:
MEDIUM or COARSE as defined by the BCPC

LERAP:
None

Time of application:

When targeting blackgrass in winter oilseed rape, soil temperatures at or below 10°C at 30 cm depth are recommended to get sufficient activity from propyzamide. Good control is achieved when a lethal concentration is reached in the weed. This is a function of plant size, rate of growth and continuing availability of propyzamide (in the soil) for uptake.

Moisture is a key requirement for activity. Good levels of soil moisture are needed to help the herbicide distribute evenly in the top few cm of the soil, and the soil moisture deficit should be less than 50mm and falling. Soils must not be waterlogged or saturated and care must be taken to avoid any risk of contamination to water and importantly, all aspects of good Stewardship applied.

Depth of germination is an often overlooked factor. The propyzamide in Kerb Flo 500 forms a shallow layer in the soil, about 2.5-5cm. Blackgrass germinating below this will be poorly controlled. High levels of control are achieved where less mixing of the soil takes place (direct drilling etc.). Avoid deep cultivations in a preceding winter wheat crop.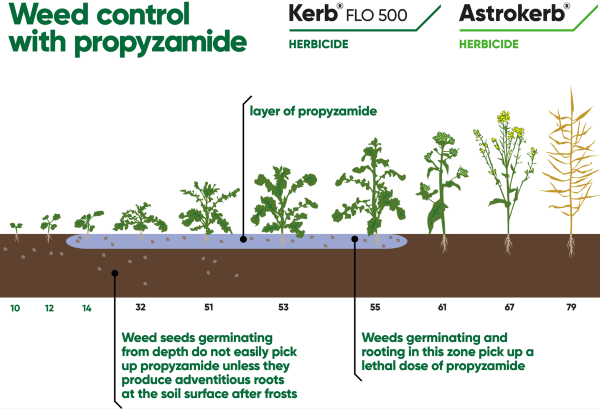 Tank mixes, sequences and programmes:

Wide range of fully supported tank mix partners
Centurion Max – do not tank mix – sequence only.
Remember only 2 fop/dim applications can be made to an OSR crop. Consider a programmed approach with Kerb® Flo 500 to maximise volunteer cereal and other grass weed control.
Kerb® Flo 500 in mixture with PGR fungicides, especially if the crop is under stress, may cause an additive PGR effect.
Call Corteva Agriscience Hotline (0800 689 8899) for the latest on tank mix , sequences and programmes involving Kerb® Flo 500.